CSC-CAR

to host first Teachers' Congress

in Baguio City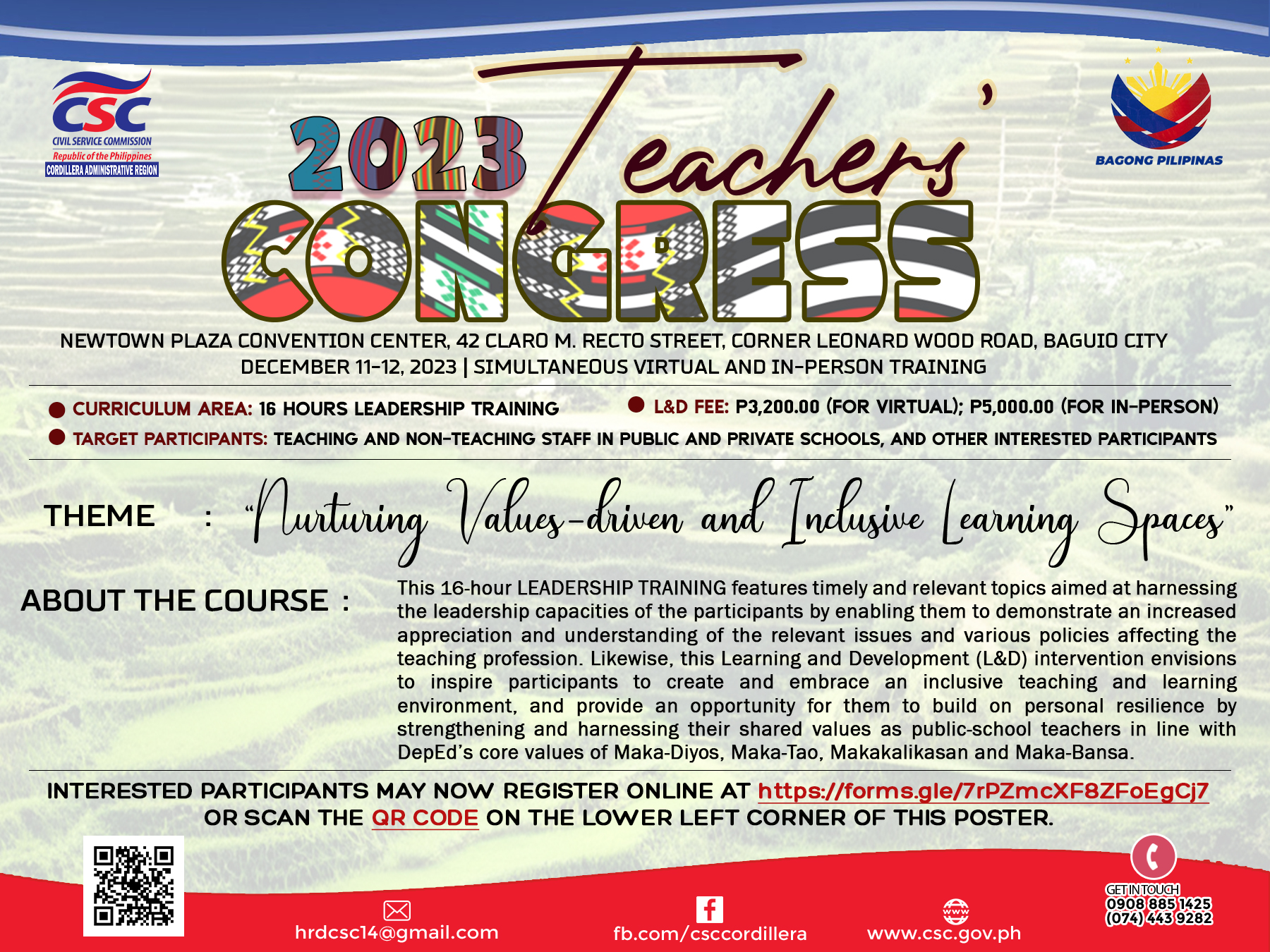 The Civil Service Commission Cordillera Administrative Region (CSC-CAR) will host a simultaneous virtual and in-person Teachers' Congress in Newtown Plaza Convention Center, Leonard Wood, Baguio City on December 11-12, 2023,
This is the first time that the CSC-CAR will host such a grand event targeting teaching and non-teaching staff from both public and private schools from within and outside the region. The CSC-CAR also encourages Human Resource practitioners and other concerned administrative officers from DepEd to join the activity.
Guided by the theme "Nurturing Values-driven and Inclusive Learning Spaces," the activity will feature various relevant and timely topics aimed at harnessing the leadership capacities of the participants.
Further, this Learning and Development (L&D) intervention, which is equivalent to 16 hours leadership training, will include discussions on Gender Equity, Disability, and Social Inclusion (GEDSI), Financial Literacy and Management, Leave Benefits for Teachers, the New Guidelines on DepEd's Recruitment, Promotion and Reclassification, Supreme Court and CSC decisions affecting Teachers, and relevant COA Circulars.
Likewise, the activity also aims to reinforce DepEd's Four Core Values (MakaDiyos, Makatao, Makakalikasan at Makabansa through the CSC's Public Service Values Program that embody the four core values - Patriotism, Integrity, Excellence and Spirituality.