Details
Guiding the participants through a journey of self-discovery, self-improvement, and a critical examination of their surroundings, the CSC RO VIII, in partnership with the Municipal Government of Sta. Rita, Samar, spearheaded the conduct of Values Orientation Workshop (VOW), at The Farm at Guinciaman, San Miguel, Leyte on 19-22 September 2023.
Read more: CSC RO VIII Gears Up MGO Sta. Rita, Samar with Values Orientation Workshop
Details
The CSC RO VIII, in partnership with Department of Health's Philippine Blood Center through Eastern Visayas Medical Center (EVMC) and other participating government agencies, organized the "Dugtong Buhay, Handog ng Lingkod Bayan" bloodletting activity, highlighting this week "Linggo ng Malasakit" theme at the HRC Building, Patriotism Hall, CSC Regional Office VIII, Palo, Leyte, on September 19, 2023.
Read more: CSC RO VIII Hosts 'Dugtong Buhay, Handog ng Lingkod Bayan' Blood Donation Drive for 'Linggo ng...
Details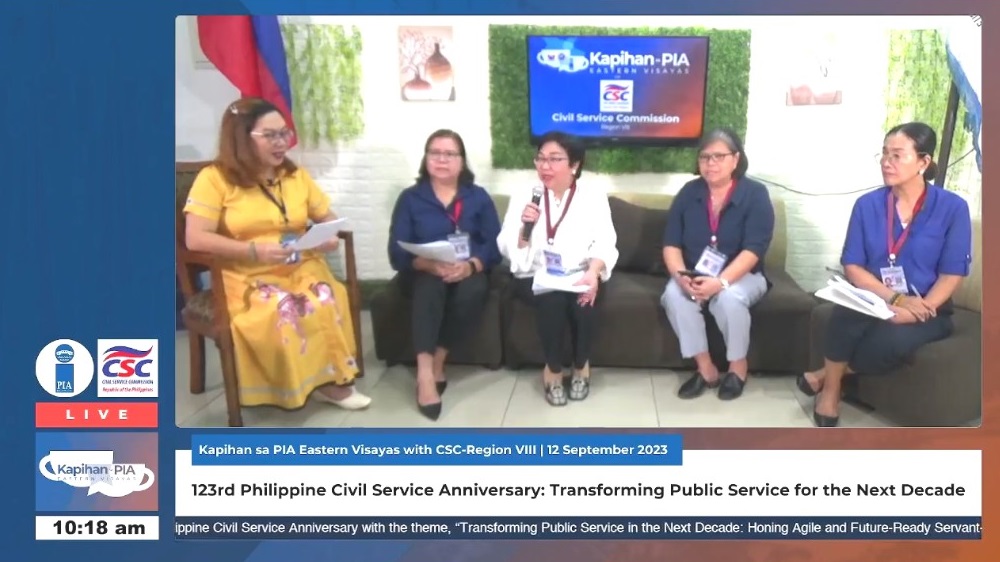 With the aim to highlight the diverse activities lined up in celebration of the 123rd Philippine Civil Service Anniversary, officials of the CSC Regional Office VIII joined the Philippine Information Agency (PIA) and the local media in an in engaging session of "Kapihan sa PIA" on 12 September 2023.
Details
One thousand six hundred twenty-six (1,626) participants, composed of five hundred seventy (570) registered pax and one thousand one hundred forty-two (1,142) volunteers, planted two thousand four hundred eighty (2,480) seedlings in the regionwide simultaneous conduct of the 123rd PCSA Plant-Run of the Civil Service Commission Regional Office VIII (CSC RO VIII), in partnership with the Department of Environment and Natural Resources (DENR), PENRO-Leyte and the Province of Leyte, on 17 September 2023.
Read more: CSC RO VIII SUCCESSFULLY CONDUCTS THE 123RD PCSA PLANT-RUN
Details
Having a bureaucracy characterized by competent and agile workforce, resilient organizations and sustainable leadership – one that ushers an organization into fast evolving work landscape, Chairperson Nograles, in his message during the opening of the ONE-CSC Internal PCSA Kick-off Activity on 4 September 2023, highlighted the goal of cultivating dynamic public service, not only in CSC, but in the entire Philippine Bureaucracy.
Read more: Chairperson Nograles Envisions Dynamic Public Service in the Philippine Bureaucracy