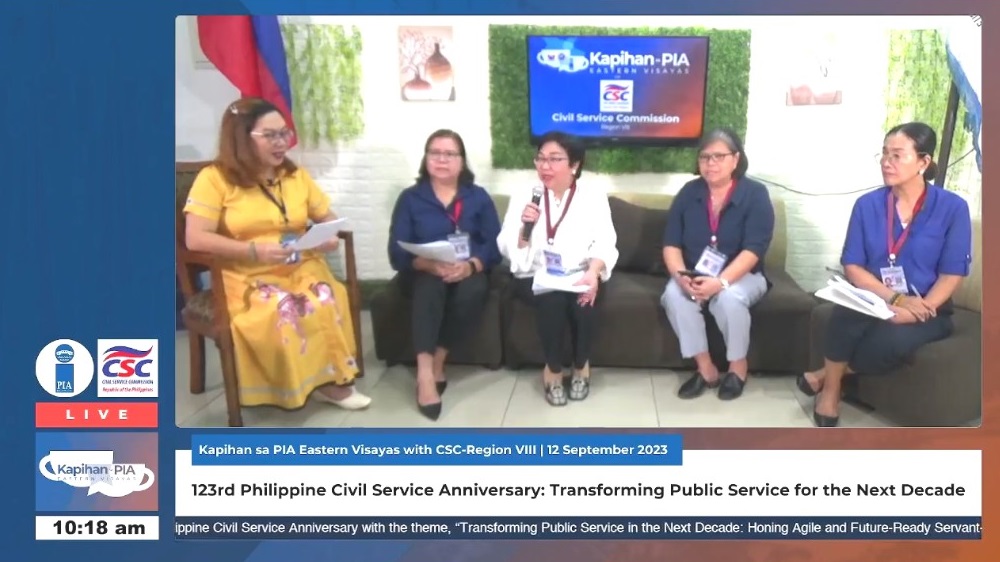 With the aim to highlight the diverse activities lined up in celebration of the 123rd Philippine Civil Service Anniversary, officials of the CSC Regional Office VIII joined the Philippine Information Agency (PIA) and the local media in an in engaging session of "Kapihan sa PIA" on 12 September 2023.
Regional Director Taldo emphasized that the PCSA is not the anniversary of the Civil Service Commission but of the entire bureaucracy of the Philippines in commemoration of the establishment of the Philippine Civil Service by virtue of Public Law No. 5 (An Act for the Establishment and Maintenance of an Efficient and Honest Civil Service in the Philippine Islands) on 19 September 1900. She enjoined all government workers to participate in the month-long celebration as a way of showing solidarity and affirming their commitment to public service excellence.
During the session, Assistant Regional Director Algas discussed the 10-year overarching theme, "Transforming Public Service in the Next Decade: Honing Agile and Future-Ready Servant-Heroes" which mirrors the shared journey of government employees during the "new normal," emphasizing on the commitment to advancing digital transformation and innovative approaches. She also mentioned the PCSA four (4) weekly themes: Linggo ng Lingkod Bayani, Lingo ng Paglilinang ng Yamang Tao, Linggo ng Malasakit and Lingo ng Pasasalamat.
Director II Ma. Natividad L. Costibolo and Pharida Q. Aurelia of the CSC Field Offices' Leyte I and II, respectively, discussed the various activities organized by the Civil Service Commission, which includes the Online Zumba and Film Showing on 1 September 2023, Plant-Run on 17 September 2023, Government Online Career Fair on 18-22 September 2023, Bloodletting Activity on 19 September 2023, Public Sector HR Symposium on 26-27 September 2023, and the month long Special Treats for Government Workers offering discounts from various participating establishments as a token of gratitude for the unwavering commitment and diligence of government employees.
For a comprehensive listing of all the exciting activities lined up throughot the entire month of September, everyone is encouraged to visit the official Philippine Civil Service Commission website at https://csc.gov.ph/pcsa2023 which you can access detailed information about each event, schedules, and any updates related to the 123rd Philippine Civil Service Anniversary celebration.
xxx